The Science of Aging
Experts have long recognized free radicals as the primary cause of aging and most products on the market only offer antioxidants to target them. Sara Palmer Hussey, PhD, discovered that the free radical theory isn't the full story and it is one of the nine universal interrelated aging causes, all working in tandem to wage war on our cells.
Morning & Night
Lumity's two-step formula works to harness the very different natural cycles of the body. The morning capsules target the energetic awake cycle of your day, and the evening capsules target the regenerative and repair qualities of your sleep cycle.
Morning
The morning capsules deliver a team of very carefully calibrated nutrients that support:
Restored energy and vitality*
Better brain health, reduced brain fog and increased focus*
A stronger immune system and metabolism*
Hormone regulation*
Hydrated skin, hair and nails*
Stronger bones, joints and teeth*
Improved muscle function*
Protection against oxidative stress, inflammation and glycation*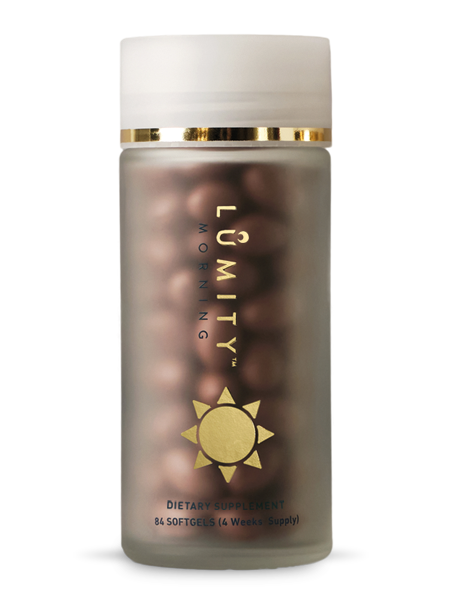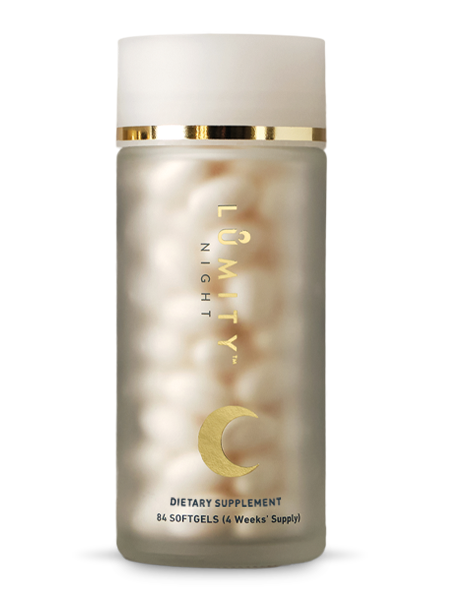 Night
The Night capsules support your body whilst in repair mode, contributing to:
Enhance the quality of sleep*
Protection against glycation and free radical damage*
The release of human growth hormone*
The repair and regeneration of your entire system whilst you sleep*
What The Experts Say...
"I recently found the best supplements I have ever taken. Having tried Lumity for six months (soft capsules with ingredients of a high-grade quality), I started noticing a significant improvement in my skin and the thickness, and health of my hair. Also, I have more energy, I am sleeping better and feel rejuvenated upon waking. While recovering from an infection and hospital operation, I believe that the supplements also aided a quicker and fully recovery."

Morning & Night customer
"Lumity is a supplement that I like to take for my hair and skin and also to support my general wellness."

Morning & Night customer
"I'm very conscious of not endorsing supplements generically (we are all very different!) this is a very clever blend of nutrients! They are also free from gluten, parabens, sulphites, petrochemicals, sugar and many more! Never underestimate the power of clean natural ingredients."
"I love the Lumity Morning & Night Supplements because they have tons of essential nutrients like antioxidants and omegas, which keep your skin young and supple."
"I formulated the Morning & Night supplement for real, men and women, who are trying their best to live a healthy life, but often stress, a busy schedule and less-than-perfect choices or habits get in the way. I see Morning & Night as a high-powered nutritional support that gives disproportionate benefits for minimum commitment. Every Lumity product whether a supplement or a skincare product is packed full of superior nutrition. The nutrients chosen work together in carefully-calibrated teams to support the body's best health from the inside out and from the outside in. Lumity's approach acknowledges the body's superior intelligence and harnesses the ways the body itself counterbalances on-going damage through protection and repair. Lumity works in balance with the body, following its lead and supporting its intrinsic drive towards health."
"I was sent Lumity to try and used it personally for 3 months and I loved it. I've been using it now for about 4 years. For em its a little bit of everything... the Morning & Night supplement supports my skin, it supports nails and it supports my energy. Really crucially it supports my sleep so I have deeper, more regenerative sleep and I think everything is better from your mood to your metabolism if your sleep is on point."